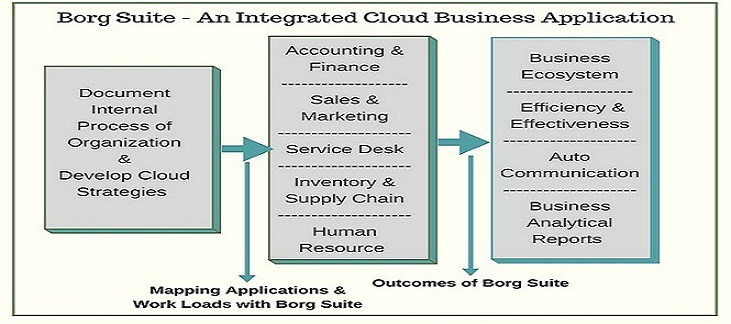 15 Reasons to Deploy Borg Suite with Every Business
BorgSuite Integrated approach defines value for each enterprise connected to this wherein all key process have been integrated at single interface like accounting, Sales, Service, Inventor, Supply Chain & Human Resource including login dashboard for employee, service customers & distributor. Integrated SMS & Email notifications & Analytical reports are added power to this Application.
1. Customer Engagement
SME's one of key sources of business is existing customers. If we take expert's opinion, 30-40 % Business comes from existing customers through repeated sales, additional sales, up-sales etc. So it becomes very important factor to protect customer engagement. We often fee that every entrepreneur tries to build trust with customers but most of them get failed. Thus it becomes one of the key challenges to keep healthy relation with existing customers. BorgSuite's algorithm works wonder to develop healthy engagement by auto email & SMS notification on every event related to customers along with opening multi-channel communication with customers.
2. Prospect Engagement
Growing awareness & internet availability, Competition is growing day by day. Prospects are having various options to choose to go for buying solutions or products. In the growing challenges, every enterprise must have auto communication tool to interact with prospect. BorgSuite facilities to have auto communication as a greeting & welcome alerts by mobile SMS & Email to develop prospect's interest many fold as well as chances or conversion becomes more powerful.
3. Customer Management
BorgSuite facilitates enterprises to add entire customer details including Name, Enterprise name, contact details, GTSIN & PAN etc… customer details record can be accessible from anywhere round the clock in case of need. If it is required can be downloaded in excel sheet format for offline use.
4. Capture Leads from Website Automatically
Business Website becomes active when it is used as a lead generator platform or tool. Every enterprise goes for website development at its regular updates on new happening but unfortunately, CXOs do not focus to capture leads from website. In this growing digital technology, Website can be key lead generator for any business. BorgSuite facilitates smooth integration with website query form & pull visitor data followed by sending greeting SMS & email to visitor as well as enterprise. BorgSuite active algorithm lets enterprise to track, Assign, Follow-up & Monitoring by CXOs from anywhere at any time. BorgSuite lets CXOs to track & Analyze ROI for leads reporting from websites or any online campaign.
5. Increase Lead Conversion
Another challenge for enterprise to missing the potential leads by various reasons depends on business to business. BorgSuite capture leads automatically from online campaign/website & missed call which does not leave any chance for prospect to go away & other things, BorgSuite reminds every sales individual to follow-up leads in time followed by showing pendency in the lead Management option.
Lead tracking logs also captured in the text format to track the history of follow-ups by sales individual as well analyze sales performance.
6. Data Capturing & Analytical Reports
Often It's seen that CXOs are failed to capture data for ensuring ROI, BorgSuite generates powerful formatted data for analysis for CXO to take right decision for business growth. BorgSuite makes easy tracking of ROI for CMOs & CFOs & helps to convert more leads followed by empowering potential of business.
BorgSuite facilitates 75+ real time analytical reports to empower decision maker to take the enterprise in the right direction.
Real time tracking reports enables CXOs to indentify loop holes in the process & helps to implement corrective actions in time. Analytical reports are generated automatically by producing data which is easy to analyze & implement for better growth of the enterprise.
7. Track Sales Individual Performance
It becomes more difficult to track productivity of sales individual & find out their loop holes to take corrective action in time. BorgSuite algorithm helps CMOs to track their performance & empower sales individual to track their conversion rate of prospects. BorgSuite facilitates CXOs to track real time work done by sales individual.
8. Receivable Management
Every entrepreneur or company's decision maker needs details of receivable (Customers with due payment) on his /her figure. In this case it's very important to have details which are accessible from anywhere round the clock.
BorgSuite enables you to have complete details including name & due amount receivable.
Moreover, BorgSuite also send email gentle reminders to customer after due date automatically in the defined interval.
It helps to recover dues from customers.
9. Online Ticketing System
Ticket system is most wanted by service enterprise such as IT Companies which are dealing with B2B business. Every growing company needs this system but due to less availability in the market with competitive price, Enterprises are often not able to deploy such automated ticketing system.
Ticketing system ensures good quality of service & high level of customer satisfaction plus develop professional feel for customers.
10. AMC Management
AMC stands here "Annual Maintenance contract". Just like ticket system, this feature is also often demanded by service sector business. Most of service companies offers annual contact for maintenance of products or system. In this case, Borg Suite allows them to manage AMC with entore contract details singned with customers.
Moreover, BorgSuite also sends prior notification to customers at the time of AMC expiry so that customer can plan for renewal in time. It builds strong positive perception about company system in the mind of customer.
11. Order Generation & Tracking
All enterprises which are dealing with supply chain of distributor to market their products must use this feature. BorgSuite facilitates product based enterprise to provide login access for their every distributor & allow them to generate online order to OEM. Generated orders are notified to company by SMS & email. Distributor can also track the status of product order from their login account as well as they would be informed automatically by SMS & emails.
12. Inventory / Stock Management
Borg Suite facilitates Stock Management system i.e. live inventory of all products. Products can be managed with their categories & sub-categories along with MOQ ( Minimum order quantity) & MSQ ( Minimum Shortage Quantity). Stock is live with its current asset value as it has been linked directly with sales & purchase of products.
Moreover, Borg generates 7 reports from stock like Top 10 sold products, list of shortage stock in the date range etc.
13. Employee Management
Big asset of any enterprise is manpower and unfortunately, this big asset is always ignored by 90% SMEs including startups.
BorgSuite allows enterprise to enter entire possible employment details of all employee including personal details, professional details, leave details, salary details etc. & each employee can be allowed to have their access of profile wherein he or she can apply or request for leave & claim. Employee can have full view access of their profile, balance leave, company's holiday calendar, Attendance etc.
14. Attendance & Leave Management
Enterprise can update attendance of employee manually or can be integrated with biometric to capture attendance automatically. Employee can have access of their login dashboard wherein they can track or apply leave for further processing by their reporting manager or HR personal.
15. Distributor Management
Product based enterprise must have their network of distributors & needs a system to manage them. Borg Suite has wonderful distributor system including supply chain management. Each distributor can be given their login account to manage stock, manage sales invoices, generate & manage product order from their login dashboard only.
More Information about our products, Kindly access our product knowledge base: http://support.borgsoftware.com